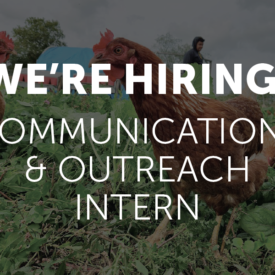 The RI Food Policy Council seeks a part-time paid Communications & Outreach Intern. The primary objectives of the person in this role are to: Increase visibility of RIFPC's mission and work Foster meaningful connections with individuals, organizations, and agencies in communities that represent a more diverse Rhode Island Support the development and implementation of content for RIFPC's web-based community (e.g. write news items on RIFPC's initiatives and events, conduct interviews with Council Members and other stakeholders, and create social media posts and campaigns) The Communications & Outreach Intern reports directly to the Communications Manager, serving as the go-to for support in organization-led communications with a focus on RIFPC's website and social network engagement. The intern will help develop and implement communications that resonate with community members, update databases regularly, as well as take part in organization-wide meetings with staff, Council Members, Board members, and other stakeholders.
RESPONSIBILITIES
Assist with website content maintenance and updates
Assist with social media moderating and content development
Maintain and improve upon a detailed database containing contact information for legislators, municipal leaders, partners, funders, and critical network partners
Proactively engage in outreach and relationship-building with stakeholders and community partners, including virtual and in-person activities
Contribute to developing outreach materials and engagement toolsSupport RIFPC staff, Council and Work Groups with research, note taking, and mission-related content curation
Be a proud ambassador of RIFPC's mission, and represent the organization enthusiastically and in a manner consistent with our mission and values
10-15 hours per week, $15 per hour. Position timing is flexible.
READ THE FULL JOB DESCRIPTION