Most consumers do not know where their food comes from, or how it was grown, and so purchase food based on price, unaware of the hidden costs of industrial food production. These conditions are unhealthy and unsustainable, but the short growing season in New England and the high price of land makes food production an economic challenge for most in the New England region. Building marketplaces in which farmers and food producers can sell directly to consumers empowers food business growth and increases consumer awareness and support for a new regional food economy.
Creating and growing marketplaces in which farmers and food producers can sell directly to the public means vendors retain a larger percentage of the dollar of sale and keep those dollars in the regional economy. Produce grown locally is fresher at point-of-sale and therefore has a higher nutritional value, and a smaller environmental footprint because it has not been transported great distances. Direct sales to the public also create opportunities for producers to develop relationships with consumers, thus educating the public about the true costs and demands of food production. Farmers markets have also demonstrated an important role as affordable incubators of many new food businesses in the region.
By The Numbers
Vendors grew from 10 in 1994, to 60 per season in 2018.
Starting with 200 visitors in 1994, ACT has seen an 800% increase in market attendance, now with an average of 1300 weekly customer visits in summer. Customer visits soar from a weekly average of 650 in the winter to nearly 2000 in the summer.
Operating budget has grown from $47,000 for two markets in 2011 to $100,000 for two markets and an additional third market in 2019, equaling more than 100% growth in 8 years.
ACT has added 100% growth in community partnerships, with 5-10 groups exhibiting at the market, including newportFILM, Newport Public Library, Save The Bay and Aquidneck Land Trust.
3 new businesses launched their flagship product at the market, and now have successful local storefronts
More than 20 vendors are now able to generate annual income by selling every week in an increasingly successful venue at Newport Vineyards in Middletown.
Its 4 annual Food Summits have attracted 400 participants from the food industry, support programs and academic institutions.
It reaches its consumer base through nearly 10,000 followers on its various social media platforms and monthly emails to its database of members.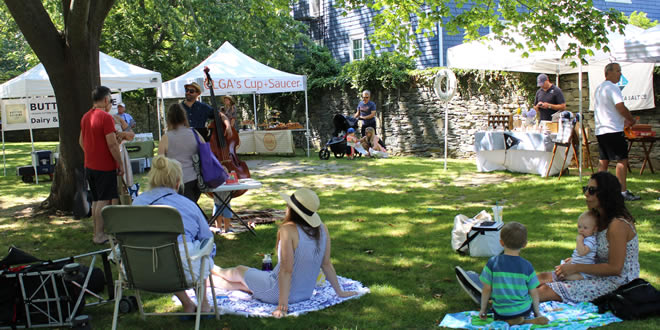 Sustain & Create Markets for RI Food & Beverage Products
Aquidneck Community Table's Aquidneck Growers' Markets have created and sustained markets for scores of local local food producers and processors by connecting them with a new consumer base.
Aquidneck Community Table strives to build marketplaces for fresh, locally produced foods at weekly Aquidneck Growers' Markets in Newport and Middletown, generating expanded access for all, and a greater awareness of the benefits of locally sourced foods for health, the strength of the regional economy, and the viability of agricultural life.
Starting in 1994 with 10 vendors at one outdoor market in the summer, Aquidneck Growers' Market has grown to become a year-round market in Middletown, with an established summer market in Newport and a developing new market on Newport's North Side.
ACT has become an incubator for small start-ups. The vendors use the Growers' Market to test the validity, relevance and demand for a new product. Some even change the amount or diversity of produce that they grow, planting more of or different vegetables that consistently sell out at the market.
It added a part-time market manager position in 2016, which expanded to a full-time position in 2018.
To accommodate its growing staff and duties, ACT established its first office in 2019.
ACT's 4 annual Food Summits have attracted 400 members of the local food community, including many of its vendors, to discuss the complexity of our local food system, its limited market, and more.
For its commitment to the local food marketplace, ACT received an Edible Rhody magazine Local Hero Award in 2019; was given a Good Neighbor Award from The Newport Women's Resource Center/Newport Health Equity Zone in 2018; and the markets were selected as "Must See Farmer's Markets" by Yankee magazine in 2018.
ACT attracts vendors from across the state and is drives conversations about food awareness forward on Aquidneck Island. Next it will focus attention on new seasonal markets in economically challenged island communities, and is expand outreach about food support programs available at all its markets.
It will strive to add community gardens and complementary curriculum at every school on Aquidneck Island; expand its food scrap collection program and continued year-round programming; and a larger staff to manage its growing marketplace.
This Rhode Island Story was prepared by Annie Sherman and Bevan Linsley.