Since 33% of all garbage is food related, and less than 10% of Aquidneck Island residents compost their food waste, an excessive amount of unnecessary "trash" is being sent to the landfill. There is no effective mandate for residential or commercial composting, and no local source to accept compostable material, so there is little to no incentive for residents or businesses to compost their food scraps.
By providing educational workshops, training and resources about composting, HSHSRI is targeting consumers' lack of awareness and skill to reduce the improper disposal of food waste on Aquidneck Island.
By The Numbers
100 residents, including 17 households, participate in HSHSRI's composting program.
167 lb of compostable material, an average of 3 lb per week, has been diverted from the waste stream since the program began in fall 2018.
7 events, including 2 all-day workshops, spread the message about composting.
More than 1000 consumers have been educated about the value and technique of composting.
5 local businesses lent their in-kind support and donations.
12 restaurants in Newport County and 5 additional municipalities in Rhode Island are interested in commercial composting programs.
1 local junior high school is involved.
A $300,000, 16-month grant from Rhode Island Foundation is supporting this initiative, as well as a $100,000 grant from 11th Hour Racing, with more in the pipeline.
6 board members and 6 staff (full time, part time and internship) contribute to this initiative as part of its parent organization Clean Ocean Access.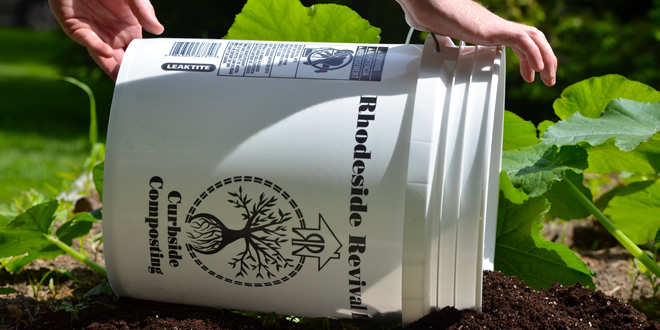 Minimize Food Waste and Divert it from the Waste Stream
To foster systemic change in the reduction of overall waste and marine debris, Clean Ocean Access's Healthy Soils Healthy Seas Rhode Island is making it easier, less expensive and more environmentally friendly for residents and businesses to compost food scraps.
Statement of Impact:
HSHSRI is fostering behavioral change toward food composting on Aquidneck Island.
Statement of Changes:
HSHSRI is engaging 17 households (100 people) to collect data about their food composting experience. So far they have collected 3 lb per week, totaling 167 lb of compostable material diverted from the waste stream since fall 2018.
More than 100 residents participate in the compost program at home, have their scraps picked up curbside or take them to the semi-weekly Aquidneck Growers' Market.
HSHSRI sells black compost bins to cultivate long lasting responsible environmental behaviors and bring awareness to the things residents are throwing out every day.
More than 1 event per month, including movie nights and composting workshops, teach  residents what food scraps can be composted, how to properly manage their compost bin, plus other resources and expert advice.
Thompson Junior High School in Newport is participating in a composting awareness campaign, creating yard signs to spread community awareness, with more schools targeted for collaboration.
HSHSRI is participating in large events to encourage composting, including the Newport International Boat Show and Swiss Village Farm Foundation open house.
A $100,000 grant from 11th Hour Racing is subsidizing the cost of the residential compost program, making it less expensive for residents to compost their food scraps.
HSHSRI is advocating for a more appropriate RI Food Recovery Incentive Policy. Established in 2016, it mandates that any restaurant generating more than 2 tons of food waste per week must compost if they're within 15 miles of a compost facility. The closest facility is in Charlestown, which means Aquidneck Island is exempt.
HSHSRI is striving to make it easier, less expensive and more environmentally friendly to properly dispose of food waste. Since composting is the best alternative for food waste disposal, rather than sending it to the landfill, but there is not a local facility, HSHSRI is advocating for a medium-scale food composting facility to be created on Aquidneck Island. This would mandate broader local composting in businesses according to the Food Recovery Incentive Policy, would reduce the amount of food in the waste stream and would decrease transportation costs from Aquidneck Island to the Johnston landfill.
HSHSRI would like to expand its educational programs, to teach kids about the importance of composting, about biological processes and introduce composting into their homes. It also would like to take its programming state-wide. It is increasing its grant applications to target these goals.
This Rhode Island Story was prepared by Annie Sherman.