Seventy percent of students at Pell Elementary receive free/reduced-price lunches, indicating that their families live below the poverty line and struggle to put fresh fruits and vegetables on the table. Many live in apartments and have little or no opportunity to garden.
Through the hands-on experiences of gardening, Pell Elementary School has partnered with the Aquidneck Community Table to empower students to grow their own fruits and vegetables on school grounds and enjoy the produce they harvest!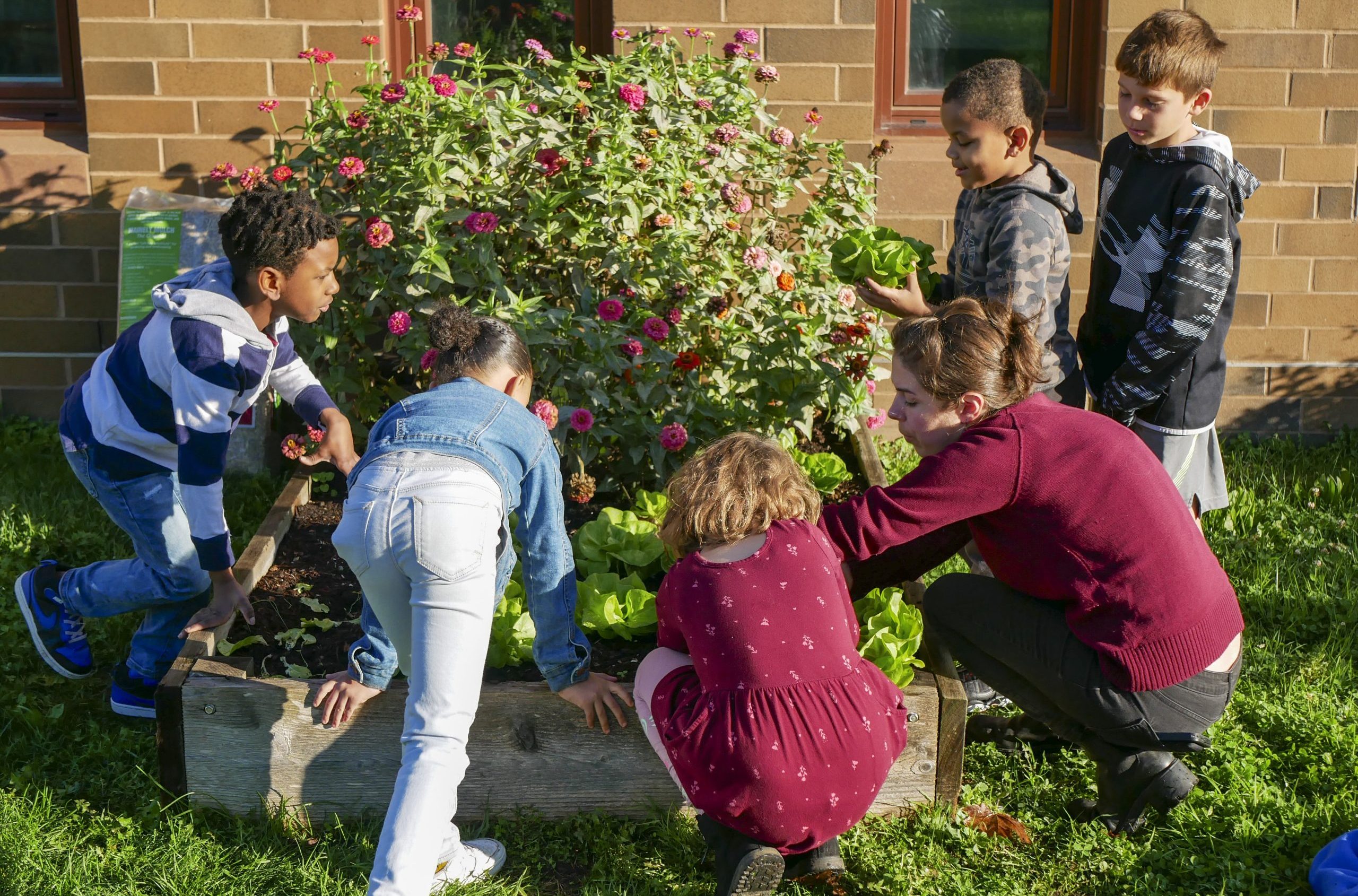 By The Numbers
Since the first beds were put in in 2018, the school has impacted the social-emotional growth of the students who participate as well as the surrounding community through the produce grown.
Students engaged in program: 350

Gardens produced enough to donate:1,500 lbs

Ratio of staff members to students: 1:6

Number of raised garden beds: 12
Ensure Food Security for All Rhode Islanders
 The Pell Elementary School garden program empowers students to change the narrative of food insecurity common in their community and create access to fresh, nutritious fruits and vegetables. Students who participate in school garden program learn new skills, experience pride in their accomplishments in the garden, and receive valuable experiential learning about gardening and nutrition.
The Pell Elementary School Community Garden is a project in collaboration with Aquidneck Community Table. Together, they are teaching young students in grades first through fourth how to plant, tend, harvest, and enjoy fresh, nutritious produce through an integrated, on-site school garden program.
The majority of students at Pell Elementary do not have home gardens or access to fresh produce, creating a critical lack of exposure to nutrient-dense foods and leaving students dependent on highly-processed foods. By engaging students through gardening and tasting the results of their labor, this program ais changing that narrative and giving students access to freshly grown produce. Students reap social-emotional benefits such as a growth in confidence and a sense of community. The gardens have become a community space where students truly feel they can belong, be themselves, and produce tangible benefits with the work of their hands.
This program currently serves 350 out of the 740 students at Pell Elementary School and has a waiting list of classrooms that would like to participate. In the future, the partners hope to expand the experience to include all students in garden instruction.
This story was prepared by Abigail Link.